We have many lovely things for sale in our shop located in the reception area. Our policy is to purchase from local authors and artists where possible. There is a wide range of local history books, greetings cards, postcards, gifts including bags, jewellery, and children's items which are constantly being updated. All proceeds support the museum.
Why not buy a gift or just treat yourself?
The following items are available by post from the Museum Shop
Please email complete the form below and you will then be directed for payment. Once we have received your order we will post it to the address you indicate.
Beneath the order form you can find more details of each of the items.
If you live in Malmesbury we can deliver to your address and leave it outside. Alternatively, you can email shop@athelstanmuseum.org.uk to reserve an item and collect it from the museum when it re-opens.
If you have any questions please email shop@athelstanmuseum.org.uk.
---
New…
Turner's Malmesbury Abbey monograph, a limited first edition of 150, written by distinguished art historian and Turner scholar, Ian Warrell, published by Athelstan Museum, complied by volunteer Mike Elam. It includes lavish illustrations with some sketches courtesy of Tate Britain.
Price £10.00 plus £2.50 p&p
Autobiographies by Dr Bernulf Hodge, Roger Griffin and Jim Toogood.
Price for each book:
£10.00 plus £2.00 p&p

Price for all three books:
£24.00 plus £3.50 p&p
The Doctor's Tale by Dr Bernulf Hodge.
He was a G.P. in Malmesbury between 1929 and 1971, a time that saw enormous changes in medicine and in society. He was Mayor form 4 years during WW2 and coped with the problems of more than !000 evacuees, sudden arrival of Ekco, a 'secret' war factory, American forces in Charlton Park. There are tales of local characters, often amusingly told and the changes in Malmesbury.
136 history pages plus 6 introductory ones. Illustrated.
The Vet's Tale by Roger Griffin
He was a veterinary surgeon in Malmesbury for virtually 40 years; at first in a rural agricultural practice and then with an increasing pet element. The practice grew and this is described and so are his activities in the town; council, civic trust, twinning association and others but his major input on the securing the museum for the town and finding the funding and volunteers to run it – and to grow it.
133 pages plus 6 introductory. Illustrated.
The Lawyer's Tale by Jim Toogood
He joined a rural solicitors firm in 1959 and has been with them ever since; still going in once a week! Like so much else in Malmesbury the law and legal work has changed and he tells of this and the changes in the town and particularly his involvement in council work, the church, various societies, local education and characters he has met.
109 pages plus 6 introductory. Illustrated.
Hannah Twynnoy, a young woman from Malmesbury, died tragically when attacked by a tiger at The White Lion Inn.  Her burial headstone, with it's interesting epitaph, is in Malmesbury Abbey churchyard.  Was Hannah the first person to die at the jaws of a tiger in England?  This booklet is a study of the tragedy, and asks what do we really know about Hannah and the tiger 20pp

Price: £5.00 plus £1.60 p&p
Local History Books
A follow-up to last year's Malmesbury Now and Then this is another fascinating collection of historic photographs collated and annotated by Charles Vernon. Many of these have never been published before. 205pp

Price: £10.00 plus £3.50 p&p
In 1672 fourteen people from Malmesbury were accused of witchcraft… The penalty for witchcraft was death. Read all about this dramatic, previously untold, story as recounted by local historian Tony McAleavy. 46pp
Price £6 plus £1.60 p&p
A history of the Moravian Church in Malmesbury, starting with its origins in Prague in the mid 15th century, through its establishment in Malmesbury in the early 19th century until the closure of the church in the 1990s. 33pp
Price: £6 plus £1.60 p&p
A fascinating little book giving much information about the history behind many of Malmesbury's street names. 28pp
Price: £4.00 plus £1.60 p&p
The true story of a murder that took place in Norton, near Malmesbury, in 1942. 56pp
Price: £6.00 plus £1.60 p&p
The story of the monk from Malmesbury who helped convert Germany to Christianity in the 8th century. He is still revered in Germany and celebrated every year with a huge festival in Bad Hersfeld – Lullusfest. 46pp
Price: £6.00 plus £1.60 p&p
All about the brief existence of Malmesbury Castle. 49pp
Price: £6.00 plus £1.60 p&p
The story of the Linolite factory, told by the people who worked there. 132pp
Price: £10.00 plus £2.00 p&p
The story of this historic manor house and the families who lived there from the 14th century through till the present day, including the link to the Washington family. 36pp
Price: £6.00 plus £1.60 p&p
A comprehesive book covering many aspects of the history of Malmesbury town: its institutions, buildings anf people. 192pp
Price: £7.99 plus £2.70 p&p
Athelstan, grandson of King Alfred, became King of Mercia in 924, and in 927 the King of all England. This book recounts his life through this very dramatic period. 110pp
Price: £12.99 plus £1.60 p&p
Walter Powell was MP for Malmesbury from 1869 until 1881. He was a very great benefactor to the town but he was most famous for his ballooning exploits, during one of which he lost his life. 38pp
Price: £6.00 plus £1.60 p&p
A large number of local Malmesbury people went to the Cleveland area in the US in the 19th century and some became very successful the the oil business. This book tell their amazing story. 38pp
Price: £6.00 plus £1.60 p&p
This book tells the wartime story of the EKCO factory at Cowbridge. The factory moved here at the start of WW2 and was involved in secret development and production work on radar.
Price: £6 plus £1.60 p&p
An entertaining an informative read for anyone interested in our town. 60pp

Price: £6 plus £1.60 p&p
Aldhelm, born in 640AD, founded the Monastery in Malmesbury in 676, and was first Abbot. This booklet gives an overview of his life. 12pp
Price: £1.00 plus 75p p&p
This booklet gives an introduction to the life of Athelstan, first king of all England. 12pp
Price: £1.00 plus 75p p&p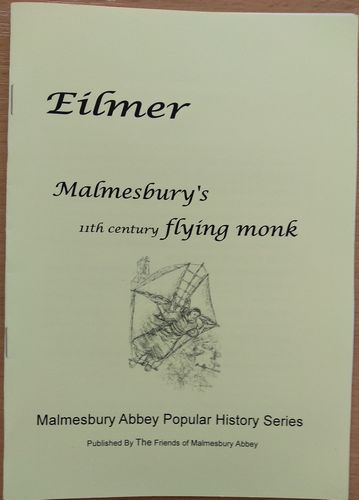 Eilmer is reputed to have made a set of wings and have made a flight off the tower of Malmesbury Abbey in around 1000AD. This booklet tells the story. 9pp
Price: £1.00 plus 75p p&p
William of Malmesbury was the foremost English historian of the 12th century. This booklet tells of his life and works. 13pp
Price:£1.00 plus 75p p&p
The dissolution of the monasteries by King Henry VIII in 1539 caused Malmesbury Abbey church and all the associated buildings and land to be sold. William Stumpe was the purchaser. This booklet gives an overview of this period of history. 13pp
Price: £1.00 plus 75p p&p
Malmesbury Lace Making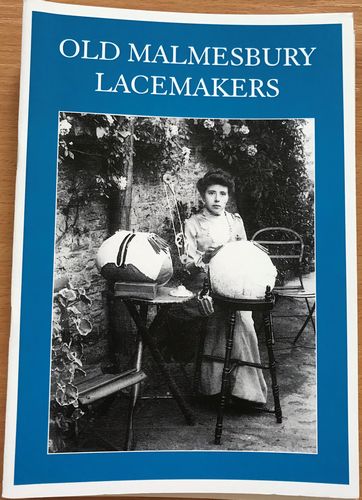 The book recounts the life and times of 6 Malmesbury lacemakers. 28pp
Price: £2.00 plus £1.60 p&p
This book gives a general introduction to lace and lacemaking and then describes lacemaking in Malmesbury through the ages. 25pp
Price: £2.00 plus £1.60 p&p
A CD containing lacemaking patterns.
Price: £4.00 plus £1.60 p&p
Pair of replica malmesbury lace bobbins, in a protective box.
Price: £10.00 plus £1.60 p&p
Others…
A wooden bookmark featuring a picture of the philosopher Thomas Hobbes.
Price: £2.00 plus 75p p&p
A set of the following five booklets: Aldhelm, Athelstan, William of Malmesbury, Eilmer the flying monk, and William Stumpe(Dissolution of Monasteries), plus a Thomas Hobbes bookmark – saving £2.90 on p&p compared with buying them separately.
Price: £7.00 plus £1.60 p&p
Four greetings cards of local scenes, with envelopes. Our selection from those in this picture.
Price: £10.00 plus £1.60 p&p
A tea towel featuring a picture of Eilmer the flying monk.
Price: £5.00 plus £1.60 p&p