Life in Roman Times on display 28th July to 4th September 2023
Alongside our Roman coin hoard another chance to learn about life in Roman times.
Previous Exhibitions
Malmesbury Market Cross on display 7th March 2023 to end July 2023
The Museum has acquired a drawing of "Market Day at Malmesbury Market Cross", by the famous English artist and caricaturist Thomas Rowlandson. Alongside the drawing, this exhibition explores the history of this well-loved Malmesbury landmark from its construction in 1490 to the present day. It has been the centre of celebrations, it has been repaired many times and has even been damaged by a bin lorry.
There are historical photographs of the Market Cross through the years on the interactive display panel
The architecture of the Market Cross is explored alongside close-up images of the statues at the top of the Cross. Never very easy to make out, each one is identified and the link to Malmesbury's past explained.
Following restoration a few years ago a couple of gargoyles from the Market Cross were placed in the Museum and these can be seen close up. There was a rumour that they presented Malmesbury townfolk so it will be interesting of anyone agres,
The Rowlandson drawing (left) shows the Market Cross area with a market in progress. In typical Rowlandson style, the picture is full of life with people, animals, stalls and the general hubbub of a busy market day.
Thomas Rowlandson, born in London in 1756, was an English artist and caricaturist noted for his political satire and social observation. Like other caricaturists of his age, Rowlandson's caricatures are often robust or bawdy.
Malmesbury Railway Days 1877 – 1962 on display 2nd December 2022 to 5th March 2023
The Malmesbury Railway Days exhibition ties in with the launch of Mike Fenton's new book "A Malmesbury Railway Companion". Malmesbury's railway era lasted just 85 years. Work began on the branch railway in 1874 and the new 6½ mile line opened to a junction with the Great Western Railway at Dauntsey on 17th December, 1877.
Explore this fascinating part of Malmesbury's past through a selection of exhibits. There are photographs of the railway in operation, including those taken by well-known railway photographer Maurice Dean, details of those people who worked on the railway and even a film of the last rail travel on the line. Railway items from the museum and from generous supporters are also on display to complete the picture of this lost time.
Images courtesy of Dr Simon Fosbury and Mr. S. Skull
Malmesbury Twinning Association – to December 2022
The exhibition traces the history of Malmesbury Twinning Association from its origins in the 1950s. In 1976 the Town Council initiated a formal Civic Twinning with Niebull, Germany which lies close to the Danish border and the North Sea coast. In 2000 a formal twinning agreement was signed with Gien, France.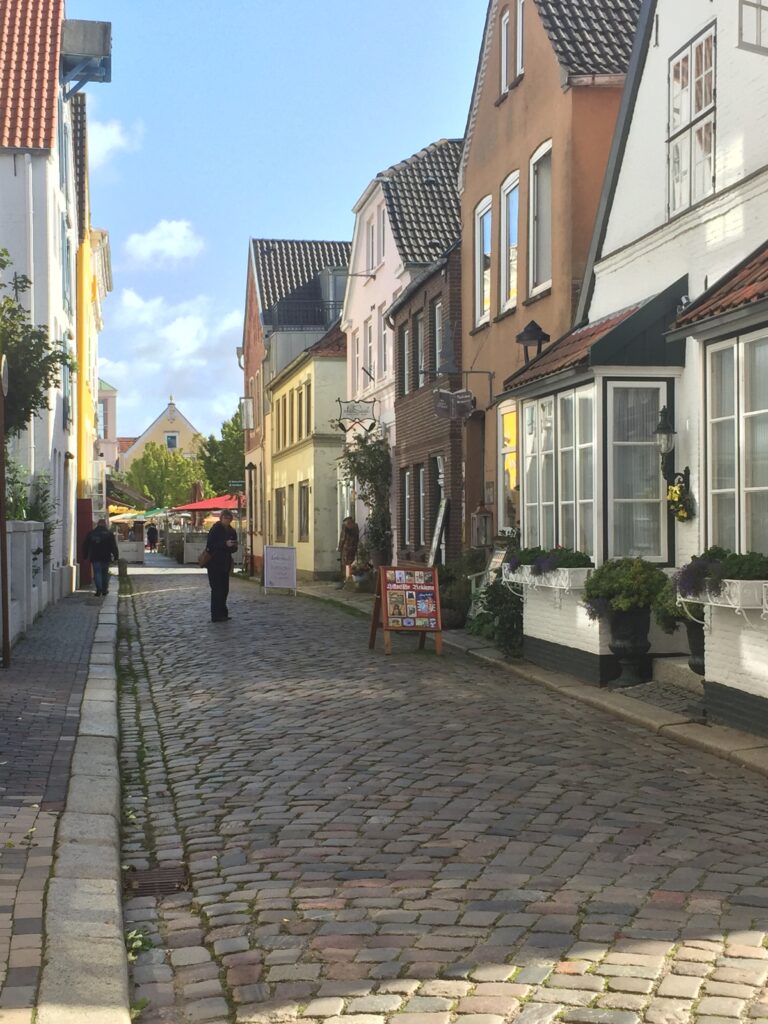 Information on the towns is displayed along with social events through the years. It is also possible to see some many gifts presented to Malmesbury from Niebull and Gien. These include some fine examples of Gien ceramics and striking modernist prints of Richard Heitzmann as shown below.