Malmesbury Lace
In the seventeenth and eighteenth centuries lace was a vital fashion accessory, not only did it look well but it was an indication of how affluent you were as lace was expensive. Centres of lace making grew up around the country and Malmesbury was one such centre with its own individual patterns. Malmesbury lace was made in fairly narrow strips using very fine thread. Typical work would include inserts to be used in cuffs, collars or blouses and edgings for lingerie, shirts, dresses and children's clothes.
Because Malmesbury lace was so fine and intricate, bobbins were developed which were plain, smooth and with flat ends. Other lace centres developed their own individual bobbins which could be much more elaborate and intricate.
Malmesbury lace is made on a particular style of large, round cushion known as a "peel". This is set on a "pillow horse". The pattern or parchment has fabric ends; pins are placed through this fabric to attach the parchment to the peel. A thick thread is used to outline the work, this was called "bunting", but is now known as "gimp". the threads used in the pattern are called "straight cotton" and "basket filling" depending on their function
Our museum has an interesting collection of Malmesbury lace and Malmesbury bobbins.
Particularly of note is Annie Goodfield's work which was included in the trousseau of Princess Alexandra.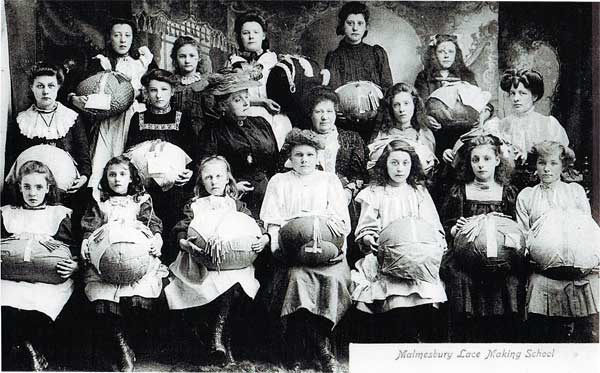 As a child Annie attended a lace making school, held in the Kings Arms, which the Countess of Suffolk and Berkshire founded in 1907. In this photo she is in the front row 3rd from the left.
In1968 she gave a demonstration during the Malmesbury Festival of Flowers and was part of the late 20th century revival of making lace, creating her own patterns
Patterns used by Malmesbury lace maker, Elizabeth (Lizzie) Barnes are now in the Wiltshire and Swindon Centre. Lizzie Barnes and her daughter Dorothy continued the tradition of lace making in Malmesbury through the twentieth century. Dorothy Barnes is significant in the survival of Malmesbury lace as she prepared written instructions based on the techniques she had learnt at her mother's knee in the 1930s.
Malmesbury lace-making still thrives.
There are currently two lace making groups in the Malmesbury area. One of which meets in the Freemans Hall every Friday
Lacemaking workshops are held by the museum during school holidays for children and adults to have a go. Please check What's On for more details
A lacemaking CD and two lacemaking booklets, and replica Malmesbury Bobbins are available to purchase from the Museum Shop.