Prior to the Roman invasion presumably Malmesbury was a small centre of a rural economy. Coins from outside the area show that some trading took place and loom weights from the iron age discovered at the top of Burnivale show that weaving took place but whether that was merely for the family use or indicating the first signs of the wool trade is not known.
Roman organisation brought trade on an international scale. Pottery shards from around the empire have been found. The tile factory at Brinkworth and more the extensive potteries at Toothill speak of specialisation and considerable local trade
In the mid-thirteenth century a guild member was in dispute with the abbot of Malmesbury over; who might sell cloth, leather goods, fish, sheepskins or hides within the borough; that no glover from outside the town might sell gloves made of horse skin and no wool merchant might trade with his own weights. There is thought to have been a fulling mill and a tannery below the Posterne gate.
The wool industry was important for centuries. William Stumpe produced 3000 cloths a year; broad cloth from Malmesbury is recorded as being sold in London. Wyniard, Postern and Cowbridge mills were all owned by clothiers. Cannop's mill by town bridge was built as a fulling mill round 1600. In the 18th century the woollen industry declined but in around 1790 Burton Hill mill was built to house new machinery in an attempt to bypass strikes elsewhere. Wool flourished for a while but in the mid 19th century was converted to a silk mill. Silk goods were produced for a hundred years.
As recorded elsewhere lace making was a crucial cottage industry around 1800. See our booklet Malmesbury lace in the Museum Shop.
Gloves as recognised in the name Glovers Court, was an important industry in the 16th and 17th centuries.
Breweries and pubs abound. Charles Vernon in his excellent book, Malmesbury – then and now lists 46 drinking holes: not bad for a town with a population of under 3000 – and that included women and children.
Westport Ironworks was established around 1870 and is still a flourishing concern although the days when they cast waterwheels and other machinery are long gone. We have much interesting material from there in our collection. Our booklet called Ratcliffe & Son is an interesting record and can be found in the Museum Shop. You can read more about Ratcliffe and Son on this page.
In 1941 Linolite moved to the Old Brewery site in Malmesbury to escape the air raids. They were producing hoe-clips for the de-icing systems in bombers;- they made 7,500,000 of them during the war. After the war they reverted back to making strip lights but stayed in Malmesbury. In 1985 the factory moved to the Tetbury hill. When it closed in 1993 nearly 200 people lost their jobs.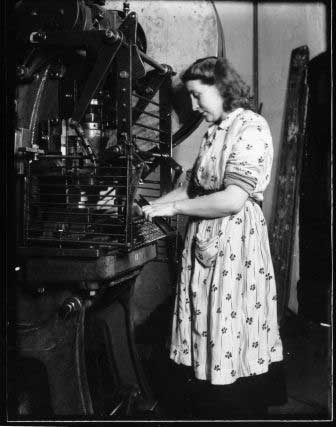 Cowbridge House, an elegant Italianate villa on the eastern side of town was purchased by E K Cole just as war broke out to house his factory, which had been on the south coast and so particularly vulnerable to air raids. EKCO made radios and similar equipment and was soon at the fore front of developing radar. After the war EKCO gradually reduced the military equipment production but continued to produce a variety of electrical goods. In 1970 Pye TMC produced telephone equipment. Pye gave way to Phillips Telecommunication Ltd who in turn yielded to A T & T, who formed Lucent Technologies. They sold the site and the area has become residential housing with road names including Sir Bernard Lovell Road and Lipman Way.
Malmesbury continues to thrive. Unemployment is low; there are a number of 'cottage' industries so the lace making tradition still thrives and there are a few medium sized firms. The major employer now is Dyson. His famous vacuum cleaners are now made abroad but there is some manufacturing and back –up facilities; Malmesbury is the centre for much research and development, an area in which Dyson invests heavily.