The "In Living Memory" Exhibition was an element of the Pride of Place Festival 2023 carried out as a joint venture with Caerbladon. It showed how artists have represented Malmesbury from the 1940s to the present day.
It enabled the museum to display some of its art work which is rarely on display. The museum collection has been built over about 80 years of kind donations without which open access to these works would not be possible. We would particularly like to thank the late Richard Hatchwell who bequeathed his significant collection of Malmesbury related images to the museum.
Please note that the art works shown are subject to copyright. If you wish to see any of them please contact the museum via email at info@athelstanmuseum.org.uk
Detail of the South Porch of Malmesbury Abbey, by John Piper, 1959. Coloured lithograph, one of 70 signed copies.
Piper, 1903-1992 is an internationally renowned painter and printmaker whose works can be found in many galleries and museums as well as Coventry Cathedral. He was an official war artist and his later work often focused on churches and monuments such as the Abbey.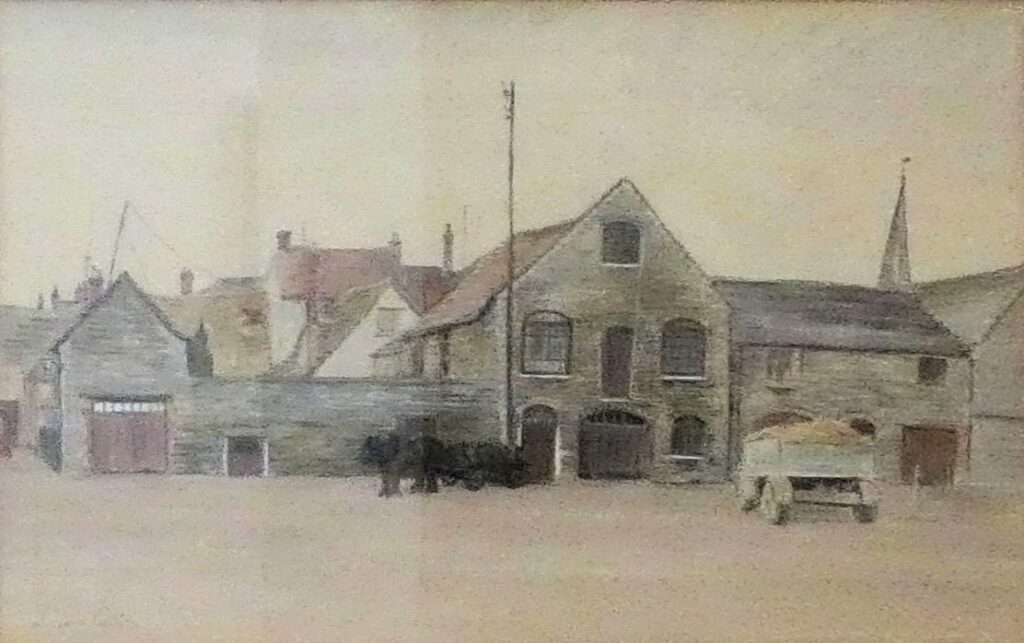 Buildings in Cross Hayes, Malmesbury, Wiltshire by Louisa Puller. 1942 Watercolour (left).
St John's Hospital, Malmesbury by Louisa Puller. 1942 Watercolour (right)
Puller was a Recording Britain artist during WWII. She made many paintings of Malmesbury most of which are housed in the V&A with the rest of the Recording Britain archive of over 1,500 watercolours and drawings
From Daniel's Well by Kim Simmons. Acrylic
Local artist Kim has lived and worked in Malmesbury since 1985 and studied Fine Art at Exeter University .
Her paintings are often influenced by her travels in India and Africa as well as the rest of Europe.
St. Johns, or Back, Steps, Malmesbury by Chris Juson, 2001. Watercolour.
Local artist Chris produces works in a variety of media, particularly acrylic and collage. These often feature less commonly pictured aspects of the town. Her works are sometimes reproduced as greetings cards and examples can be purchased in Athelstan Museum.
Aldhelmsburgh by Robin Tanner, Etching (left). Hand written lettered caption (right).
Tanner lived from 1904-1988, in Kington Langley from 1932. Many of his etchings are held in the Wiltshire Museum Devizes and the Ashmolean exhibited a retrospective in 1961. There is more information about Robin on our history page.
The Market Cross by Alice C. Butler, c. 1930. Pen drawing.
Alice Caroline Butler – after 1938 Alice Bizley1909-1995.
Born in Bromley, Kent Alice studied at St. Albans School of Art. Her landscapes and flower pictures were considered
masterpieces of the miniaturist's art and in 1933 she was living in Malmesbury where she ran a studio shop. Later she moved to Perranporth, Cornwall.
Ratcliffe's Iron Works by John Bowen, 1992. Watercolour.
John Bowen, who died suddenly in 2009, was a well known figure in Malmesbury, He was a local Councillor, dressmaker and milliner as well as an artist. The Art Gallery in Malmesbury Town Hall is named for him. Ratcliffe's is a family firm in Malmesbury, founded in 1870.
The Jolly Abbott by Charles White. Oil.
Charles White lived in Malmesbury in the 1970s-80s in the Old Castle House in the Triangle, He painted many local scenes but was particularly fond of the Market Cross. The Jolly Abbott is now the Whole Hog pub. Charles was married to Mary White who also has a work in this exhibition.
"Athelstan House", the Kings House on Kings Wall from the south west by C. Emanuel, 1943. Crayon pastel
Probably Charles Herbert Lewis Emanuel 1868-1982. He is known to have worked in pastels. We also have a work by his brother, Frank Lewis Emanual in the exhibition.
The Horsefair, Malmesbury by F L Emanuel, 1934 Pencil drawing
Probably Frank Lewis Emanuel 1965-1948. Painter of landscapes and interiors, draughtsman, etcher, teacher and writer. He is known to have drawn Malmesbury. We also have works by his brother Charles in this exhibition. The Horsefair is in the old Westport parish where Thomas Hobbes was born.
St John's Hospital by F W Baldwin, 1954. Watercolour
Possibly Frederick William Baldwin 1899 – 1984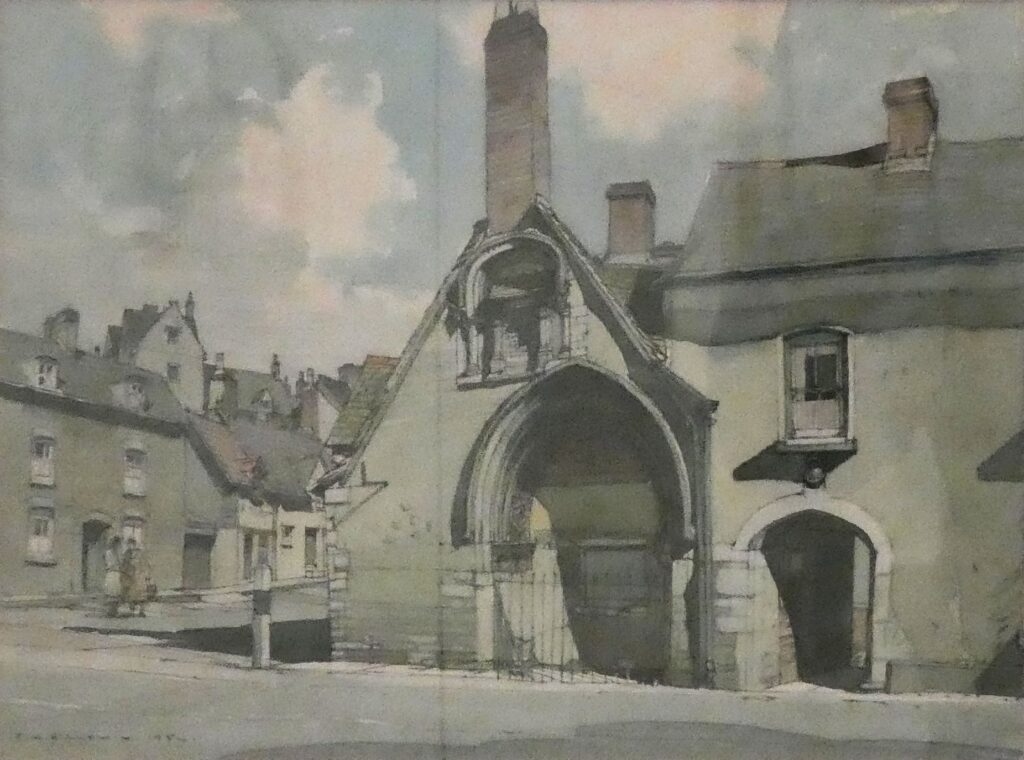 Apostles on the east side of Malmesbury Abbey porch by Fursman. Oil Pastel
Illustration for an edition of Carnival Times by Colin Forward, 1995. Ink from pencil drawing.
After moving to Wiltshire in 1950 and briefly teaching Art and Games at Malmesbury Grammar School, Colin worked for EK Cole (EKCO) and other organisations as a technical illustrator. He set up a second-hand book business and later worked as a signmaker in Swindon. A love of cartoons and architecture informs his artistic output. This image. with spoof references to the town in 1995 by David Witt and Peter Clarke, is based on the famous picture map of Malmesbury from the Civil War. Detailed information about the 1646 original can be found in the museum
Elmer the Flying Monk by Tom La Fontaine, 2004. Pencil drawing.
Thomas Sherwood La Fontaine 1915-2007 was a portrait and animal painter and draughtsman. He studied at Regent Street Polytechnic School of Art 1934-6. City and Guilds of London Art School 1936-9 then Spenlove School 1939. He showed at the RA and elsewhere and lived in Malmesbury for many years. He was specifically commissioned by the then Friends of Athelstan Museum to undertake this drawing of Elmer.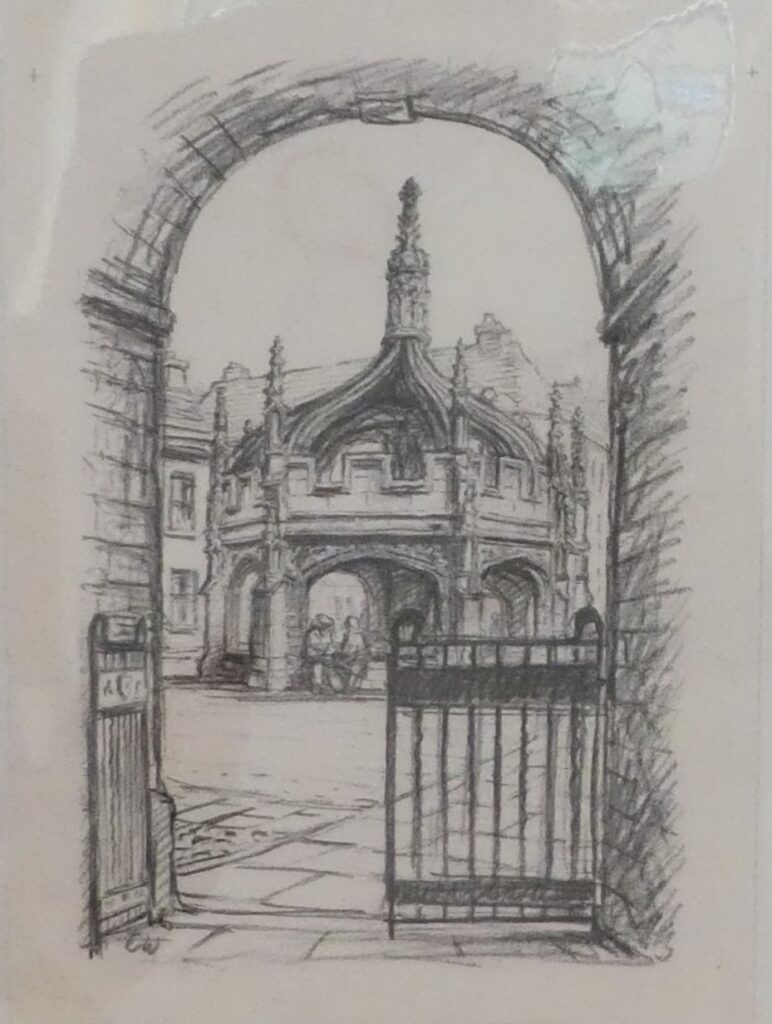 The Market Cross viewed through the Tolsey Gate by Charles White. Pencil drawing.
From left to right. Abbey House Malmesbury by D. Milner 1987, watercolour. The Flying Monk Pub by Rob Walker 1973, pen and ink drawing. The rear of the Convent in Cross Hayes by Peter Harris, watercolour.
The following art work was also in the exhibition but not shown above:
Market cross by Charles White1980 – Oil
Black Horse pub by David Evans 1944- Pencil drawing
Malmesbury Abbey from North by Janet Gardener 1997 – Watercolour
From St Aldhelms Mead by C. Emanuel about 1943 – Crayon pastel
Silver Jubilee ceramic bowl by Mary White 1977
Dish and set of Serviette rings with Malmesbury crest by Clive and Chris King ,Malmesbury Pottery date unknown
Sketches of Abbey porch Angels by Peter Harris – date unknown
Ecko 1956 staff party brochure/programme by  Colin Forward 1956
Return to our Arts Page